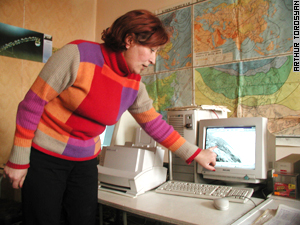 Residents of Yerevan who dial 186 can hear a twice-daily update of local weather.
Few, though, know the titanic effort required for this 10 seconds information. Seven hundred and 50 people work throughout Armenia day and night to get the information from 40 meteorological stations, 100 observation points, one upper-air station and from seven satellites.
The Meteorological Center of Armenia has a history of 70 years. The information it gathers is presented to the different offices throughout the country, and to television stations.
The head of the meteorological forecast department Zaruhi Petrosyan says that they get fresh information every three hours, and assures that the information is reliable. It is gathered in part from a radiosonde sent up each day (costing $100 per launch) and from two satellites.
Armenia also cooperates with the World Meteorological Center, in Geneva, which provides the Armenian office with information in exchange for reports from here. That center donated computers and equipment to help make Armenian meteorologists' jobs easier and more accurate.
For the past month, since experiencing an intense freeze when temperatures reached 30 (Celsius) below zero, Armenians are paying more attention to weather.
Petroysan says her center forecasted the cold spell in November, distributing the information to significant agencies and offices, especially to those concerned with providing electricity.
"Sometimes people are being confused by the false indicators of the thermometer that is placed on the top of the Opera House," she says. "That thermometer is out of order. It could show -10 one minute, and +2 the next.
"The thermometer is in charge of the City Council. We applied to them asking to fix it, but the thermometer still lies. We will have to apply again to the Council, because the false information damages our reputation."
Last month the weather center ArmHydroMet was divided into the meteorological agency at the Ministry of Nature Preservation and the HayStateHydroMet by the decision of the Government.
"Actually nothing changed in our work We work in the same regime, with same responsibility as we did before" says Albert Torosyan, a 40-year veteran of the center and head of meteorological service department.
The budget of the last year for ArmStateHydroMet was about 240 million dram (about $410,000).
Young women employed by ArmStateHydroMet provide forecasts for broadcasts by Meteo-TV.
Armine Chibukhchyan is one of the anchors of the Meteo-TV. She graduated from the State University in the specialty of hydrometeorologist.
"What I usually do is work on information which is needed to be 'translated' from the meteorological language,"she says. "Then I have to learn the information by heart and to tell it to the camera. Usually it takes many hours to work on information and two or three minutes to present it."
And if the hours of work are accurate, tonight Yerevan will still be shivering with temperatures of -7 to -9. But tomorrow (January 25) the numbers will climb on the plus side by two to four degrees.