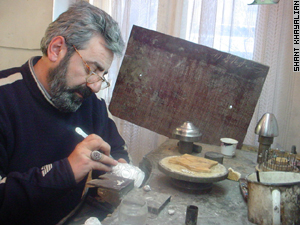 During Soviet times, only 100 artists throughout the entire Union were given permission to work in gold and silver.
Arshak Manukyan, 46, of Echmiadzin was one of those chosen. Now, the former State specialist crafts articles for use in Armenia's holiest center, the Mother See.

His work, a large cross, can be found in Antilles and replicas, ordered by Vazgen I, could be found on children baptized in Artsakh during the late 1980s. Similar crosses were presented to those bringing humanitarian aid following the 1988 earthquake.
"Crosses which I made are spread all over the world," Manukyan says, "and this is a significant event for me by itself."
His work has been ordered by three Caholicoses. His most prized piece is the cresset, made for the 1700th anniversary of Armenia adopting Christianity, and placed on the chancel, by order of Garegin II.
"While making a sketch I was thinking of a thing which will symbolize something," the artist explains. "I choose pomegranate. I divided the peel of the pomegranate on 12 parts in the center of which there had to be fire. It symbolizes Christ with 12 apostles around. The Caholicos liked it very much."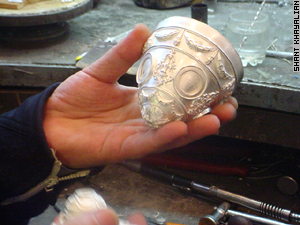 The cresset is lighted with a flame brought from Khor Virap by the Catholicos and which then was divided between 40 dioceses of the Armenian Church.
Manukyan also made 40 containers for distributing holy water for the dioceses.
Manukyan graduated from the radio engineering department of Yerevan Engineering University. During the years of study he met Edik Isakanyan, one of Armenia's best silver jewelers.
"When I found myself in the master's workshop, I felt that I should be engaged in that work," Manukyan says. "To my surprise, he said that I had a talent and would prove that in the nearest future."
Five months later the future master started working on his own.
In 1988 in Moscow he participated in the All-Union exhibition and got the right to work with precious metals.
"In times of the Soviet Union I had no right as a specialist to work with silver or gold, but only with not precious metals," Manukyan says. "I got the permission from the Ministers' Council. There were only 15 or 16 of us from Armenia."
Since independence, Manukyan, like most artists, has faced the difficulties of socio-economic hardship. Mainly, he has had to battle the problems of inconsistent electricity service. But an appeal to the mayor of Echmiadzin helped him get full-time power.
The key to his craft, though is found in the fingers, he says.
"Each person's fingers tell about his or her inner abilities. Fingers suggest whether the given person can be engaged in silver and gold jewelry," says the People's Master. "This art requires smooth flat fingers with similar nails, and of course talent and diligence."
The master's workshop is on the ground floor of his own house. If he gets big orders his wife and daughter help him.
"I am an accountant, but I gave up my profession and help my husband," says his wife, Gayane Galstyan, 37, who talks like a trained specialist when she describes her contribution, applying enamel.
Daughter Ani, 17, an apprentice to her father, complains that he is a strict teacher, but his approach has good effect. She is also working with enamel creating works with her father.
A photo album in their home shows Manukyan's work for Pope John Paul II, for Russian Patriarch Aleksiy II, for Russian President Vladimir Putin, and others.
"When I'm working for our Church I'm guided by the national, traditional principles," Manukyan says. "For the foreign markets I make works that correspond to those markets' demands and I always research them. One should not remain behind, otherwise you will choke."
This year Manukyan has been commissioned by the Church to prepare special works to commemorate the 1700th anniversary of the Holy See during August and September this year.
Among the pieces he will produce is a large cross that Manukyan says "is regarded as a great new historical work."