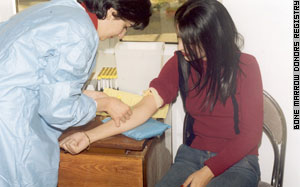 On September 17 the warm sun that washed a ward of the Los Angeles's City of Hope hospital was fused with the breath and hope of living.
In the morning, when a vital marrow was brought into the ward, the young boy, Armen, started singing "Happy Birthday". By then he had two birthdays - one on November 17 and this one, the day he would be re-born from the clutches of his deadly disease.
Half a world away, members of the Armenian Bone Marrow Donors Registry celebrated with him.
Armen had intense leukemia. The tortures of chemotherapy were useless, and the family was advised to apply to the Armenian Bone Marrow Donors Registry. Two months later his life was saved through a marrow transplant and today he lives in Glendale where he is daily getting stronger.
During the two-year history of the Armenian Bone Marrow Donor Charitable Trust this was the first transplant, however more than 100 patients, among whom there were 30 children, were hoping, waiting for a life-granting donor.
Four-year old Ani Tovmasyan was a very active child who enjoyed singing, dancing and drawing before being diagnosed with aplastic anemia. Now her primary activity is playing doctor, treating her suffering doll patients, telling them, "You have aplastic anemia, so you need to take prednisone".
Like many, Ani waits in hope of finding someone, somewhere, whose genetic makeup matches hers.
The Armenian Bone Marrow Donors Registry is the only one of its kind not only in Armenia, but also in the whole region, where serious research in the area of bone marrow is being done. The potential of the laboratory can later be used to contribute to transplant of other organs (liver, kidney, etc.) in Armenia.
Armenians have a unique genetic type, and so for Armenian patients it is practically impossible to find appropriate donors in the world's registries.
As a result of genetic incompatibility Armenian patients needing a marrow transplant usually die. It became, then, important to create an Armenian donors registry for Armenians spread all over the world, which will give a wide range of opportunities to save lives of Armenians suffering with leukemia and other diseases of blood.
"Having our Armenian registry gives an opportunity to concentrate our efforts for recruiting donors in Armenian communities and create an Armenian data bank," says executive director of the Armenian Bone Marrow Donors Registry Sevak Avagyan.
Marrow transplant is a last hope for those who suffer serious blood diseases, such as leukemia and aplastic anemia. Unfortunately many children are carriers of those diseases.
Depending on the type and stage of a disease the chance of saving patients through transplant is 40-50% among adults and 60-70% among children.
The most important thing for finding an appropriate donor is to have a rich data bank. The staff of the registry and numerous volunteers recruit donors in areas where there area many Armenians. Till now 5,000 donors have been recruited in Yerevan, Artsakh, Los Angeles, San Diego, Boston, New York and Iran.
Donor recruitment activities are planned to evolve in Detroit, Fresno, Pasadena, Montreal, Toronto, Lebanon and Argentina.
The first step in donor recruitment is donating blood. After deciding a tissue type, the blood is placed in the data bank and if there is a compatibility with a patient, then a little marrow is taken from the hip of a donor with a slight anesthetization. The donor feels only a slight pain in the hip, but the result could be life-saving.
All the researches done by the registry are free of charge for both donors and patients.
In 2000 the Armenian Bone Marrow Donor Charitable Trust was granted the prize of President of the Republic of Armenia in the area of healthcare. In 2002 during the Women in Business award ceremony president of the registry, Doctor Frieda Jordan was awarded the first prize for the important contribution to the area of science.
However, letters and grateful looks of the patients, who patiently wait for their savior, are the most valuable estimate for the registry.
"If the registry saves only one life, it's going to be 100 percent worth it," says Hripsime Boyajyan. Her son went through several courses of chemotherapy and radiotherapy and they all failed.
"Our last hope of survival was a bone marrow transplant, but he died before one was found. We could not help Sarkis in time, but I know - as the registry grows - we can help others," she says.