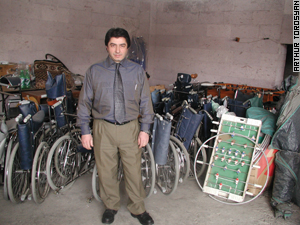 In Armenia, where seeing a person in a wheelchair in public is still a rare phenomenon, more than 50 disabled appeared in wheelchairs at polling stations on February 19.

"Our organization and several other Non-Governmental Organizations (NGO) provided vehicles for disabled," says Hakob Abramyan, head of Pyunic association for disabled. "Unfortunately we did not have so much recourses to help to all those who wished to exercise their citizen's rights."
And Abrahamyan says more physically challenged could have enjoyed their voting rights if authorities had helped.
"Long before the elections we applied to several organizations as well as to the Central Election Commission, asking them to provide vehicles, but we never got any feedback," Abrahamyan says.
During Soviet times mobile precincts were taken to the disabled homes, but that practice had gone with the Soviet Union.
However Abrahamyan mentioned that even the limited number of disabled who participated in elections is progress, compared with the previous elections, when not one NGO organized such action.
In all there are 110,000 disabled in Armenia with mental and physical problems of different stages, including veterans of Afghan and Karabagh wars.
Pyunic, with headquarters near Hrazdan Stadium, was founded after the 1988 earthquake in Armenia.
Though sparsely filled and in need of renovation, the headquarters has enough space for all its members, including a gym and workshops.
The name of the organization (which means phoenix, like the mythical bird that rises from death) was suggested by one of its disabled members and became a symbol of hope for its 3,000 members.
"Society is changing towards disabled each year," says Hayk Abrahamyan, who became a member of Pyunic after he lost one leg in an accident.
"Before people stared at me or others for example in the swimming pool, but now I can see that people got used to seeing disabled. However, there are few places that adapted to disabled in the city. No café nor cinema has a special place for wheelchairs or has elevators."
Today Hayk enjoys several kind of sport including sailing and helps as a Pyunic volunteer.
And this year his wheelchair-bound comrades had a chance to vote, an opportunity that will be repeated in next Wednesday's Presidential Election runoff.
The outdated label of "invalid" commonly is applied to the disabled in Armenia. Nearly as bad, they say, is "people with special needs".
They say they just need a little help to prove the name of their organization.
And more would have chances to vote for the President of their country.