When Lilit Hakobyan bought Gentamicin for her ill daughter from an unnamed and small pharmacy, she couldn't even imagine that the vials would cause a problem.
Those effective antibiotics meant for administering via injections and intended for recovery in short terms turned out to be completely ineffective. The medicine was counterfeit and the vials contained some unknown mixture or water.
"Before that incident, I couldn't even think that something like that could have happened but now I'm suspicious of everything," says Hakobyan, "I have no idea how I can protect myself from all of that and not to buy fake medicines. It's a real mess."
According to the appraisals of International Healthcare Organization, there is a probability that up to 60 per cent of medicines that are sold in markets of developing countries can be counterfeit.
"These days, when talks everyday are about bioterrorism, the branch of bioterrorism exists under the name of pharmacoterrorism i.e. terrorism by means of medicines," says Samvel Azatyan, candidate of medical sciences, deputy head of Armenian Drug and Medical Technologies Agency. "It is a serious problem for the entire world and all the more for the developing countries and, of course, for Armenia."
As specialists assure, the medicines, which are legally delivered to Armenia are completely legitimate and are checked on different levels. But the same cannot be told about medicines which are delivered to Armenia through smuggling. Those medicines are mainly brought from CIS countries in bags or cases and for the most part are faked and consequently very cheap. As delivery of such medicines is illegal the quality is impossible to control.
"First of all medicines are very profitable and, of course, there is a great temptation to fake them for making profit off it," Azatyan says. "Sure, in most cases the medicines in great demand are faked. They are antibiotics, analgesics, anti-inflammatory medicines, substances for intravenous usage and others."
"It often happens that we are offered medicines for very cheap prices, however, we are working with companies and aren't attracted by offers like that," says Silva, co-director of one of the biggest pharmacies of Andranik district. "Many people are attracted by cheap prices and take those medicines but later they get into problems."
Azatyan says that medicines can be faked in different ways. For instance, there are cases when medicines don't contain correct active agents, which they should have contained and such medicines are of low effectiveness. Sometimes it happens when faked medicines contain no active agents at all, instead they contain neutral substances. The shape and design of the legitimate medication is copied making it impossible to detect a fake without chemical testing.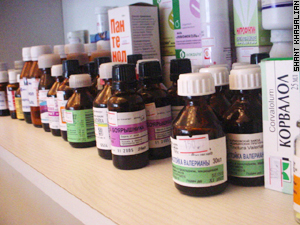 "It can happen when a medicine contains dangerous and poisonous substances. Of course, it's the most dangerous type of fake production and over the past years it has been seen more often here," says Azatyan. "Some cases were detected in our market, when, for instance, instead of antibiotics, medicines contained agents infected with microbes or under the name of substances for intravenous usage some substances, which contained water or some fouled mixtures with adequate color attached to them were on sale. Nobody can guarantee that these days some faked medicines won't be used for inflicting great injury to people at large. I mean this problem grew from medical into the problem of national security in a sense."
In Armenia faked medicines were detected mainly as a result of alarm calls and only in a few cases as a result of inspections. Either ordinary citizens complain or mainly doctors, who have been using medicines for many years and one day find out that those medicines look strange or they are not effective at all.
The Agency on Medicines and Medical Technologies, which since its founding in 1992 has been examining this problem and conducting laboratory researches in this field, makes statements after each incident in its periodical about faked medicines and how to avoid them. However those methods are not available to the public at large.
"A great amount of faked medicines have been detected on the Armenian market. We can be sure that the number of faked medicines in the market is incomparably bigger than the number of detected ones. As for the present moment there is a problem of detecting and the population must be more careful and make right choices," Azatyan says.
Specialists advise consumers to buy medicines only in approved pharmacies and not from unknown markets. And in case there are some doubts while purchasing medicines one must insist on necessary documentation proving the validity of the medicine.
Head of Press Department of the Ministry of Healthcare Ruslana Gevorgyan says that the Ministry is organizing an inspections commission to exercise more control over the import of medicines and tests to determine validity.
"For the stronger fight it's necessary to carry out serious works and closely cooperate with law enforcement, tax and many other bodies and links," says Samvel Azatyan. "First of all the borders must be controlled very seriously as one bag delivered to the country through smuggling can deluge the whole republic."