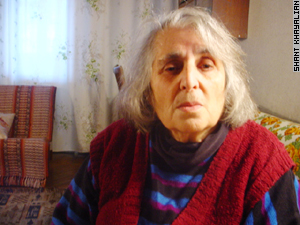 Since January 1 the average pension in Armenia became 6,600 drams (about $10.30) a month, a 2,000 dram increase over last year. There are 542,000 pensioners in the republic.
According to the Statistical Service of the Republic of Armenia, during the last six years the number of pensioners decreased by 54,200 people or by 8.9 percent, a figure explained by the reduction in the average lifetime, as well as intense migration of the population.
In interviews by ProMedia, 76 percent of respondents said the next President should further increase the allotment to the nation's pensioners.
"The amount of pensions is a reflection of the economic product. Also the better the tax system will work, the higher pensions will be," says Ashot Yesayan, deputy Minister of Social Security. "Two and a half years ago Social Insurance Foundation had a debt of 4 billion (drams). Now it has managed to pay it back and to increase pensions by one-third. It is due to good work. If you don't make a person pay the tax, he or she won't do that. The foundation is generated from those taxes. They distribute whatever they collect."
Social Insurance Foundation has been established to protect pensions from the budget. Employers are required to pay 20 to 22 percent of each salary to the insurance foundation.
Some 96,000 socially vulnerable pensioners also get a poverty allowance of 4,000 drams from the budget. Yesayan says that allowance has to be proportionate to the minimal salary (5000 drams) and to the pension, meaning it shouldn't exceed them.
However, 76-year-old Lida Khudoyan, whose only income is 7,100 drams pension, is deprived of the allowance as far as the family of her son living in Dubna, Russia is registered in her place. Her son works in a State-funded scientific institution. His mother says he is hardly managing a living for his four-member family off his salary.
This thought expressed in the article "Poverty and Inequality in Europe and Central Asia" of the World Bank year 2000 report: "Pensioners that hoped to have unworried old age found themselves to be left with nothing," can be referred to Lida Khudoyan.
Lida who has 41-year job seniority spends her pension for food, public utilities' payments, and refueling of a three-litre gas balloon: "I pay 1,500 drams for bread, buy macaroni, or vegetables in summer. I don't use public transportation means, because one or two mini-bus travels will affect the quantity of my food. Friends give me things to wear. I didn't have coat and shoes and they gave them to me. When I am getting ill they suggest buying medicines for me, but I say that I don't like taking medicines, not to let them spend money."
Lida is not able to heat her apartment. She is wrapped in several blankets and doesn't leave her bed. She doesn't have a thermometer, but one can conclude the temperature is below zero Celsius, as far as water is freezing.
A few times she applied for the allowance, but she was refused: "The last time they said rudely - no, this will not work out."
"We have a principle of social guardianship's exception to make people look for other income instead of hoping to get allowance only," says Yesayan. "In case a pensioner has a grown-up child, the latter has to care for his parent. In case the child doesn't implement his duties a parent can apply to a court to demand maintenance."
Pensioner Lena Hovsepyan, 73, with a 40-year job seniority spends her 7,000-dram pension and allowance for only food.
"It had some impact, when my pension increased by 2,000 drams, however, it was not very dramatic," she says. Lena has arthritis and she can hardly move.
Unlike Lida her apartment has been heated for two years. A Non-Governmental Organization "Mission Armenia", which is implementing social and healthcare program for 6,000 pensioners, pays Lena's electricity charges and provided her with an electric heater and free medicines of vital necessity. Through the NGO program, some 3,000 pensioners get full services - food, and healthcare.
"We are constantly trying to involve new needy people. Before, we even looked for them, however, these days there are so many applicants that we haven't got time for searching," says president of Mission Armenia Hripsime Kirakosyan. "There are many poor old people, who don't know about us, however, whoever applies he or she will get aid. We have possibilities."
The organization, with a 450-member staff, opened 21 charitable canteens in eight regions of the republic for needy elderly and also created rehabilitation centers. Besides, workers of that organization repair pensioners' apartments and provide them with medical treatment and other services at home.
The organization's budget is supported by foreign donors. Kirakosyan supposes that the government must develop standards concerning the problems on social insurance, allot the money from budget and order NGOs to carry out projects using those standards as it's not possible to always hope for foreign aid.
Both Lida and Lena are in the poorest stratum of the republic's population, who, according to the researches assisted by World Bank and conducted by National Statistics Service, make 16 percent of the population. Comparing with 1998 the index (22.91) fell by about seven percent.
The poorest group has expenses of about $1 per day. According to the same researches, 50.9 percent of the population is poor (in 1998 the index was 55.05 percent). Each in that category spends about $2 per day. (The 16 percent of the poorest people are in that 50.9 percent.)
"The improvement of social conditions is conditioned only by economic growth," says the World Bank's Vigen Sargsyan. "There is an average standard, which indicates that if annual growth is more than 10 percent the level of poverty is decreasing (officially economic growth made 12.9 percent in 2002). It's impossible to wait for the moment that all the questions will be resolved at once. The growth with double-digit numbers must be stable in the conditions of social tension so that the level of poverty could be decreased step by step."