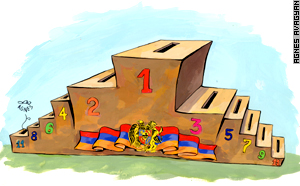 When Armenians elect a President February 19, their choices for leadership will range from the incumbent with five years at the post, to a pensioner.
Ten candidates are running, each with the belief that he is the best man to run the country. Some are veterans of Soviet and independent Armenia politics; others appeared in the political arena only a few months before the election campaign.
Most base their campaign platforms on improving social-economic conditions, a peaceful resolution of the Nagorno-Karabagh conflict, strengthening ties with Diaspora and economic development of the country.
Following are sketches of each man's credentials and ideals.