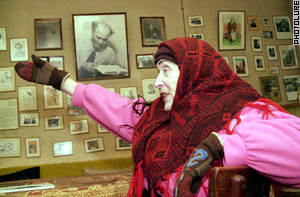 "I blame my parents for bringing me into this awful world. I think in the first place they are guilty and then Chekists (former KGB member)," says 80-year-old Antonina Mahari wrapped in several coats. Siberia comes to her Yerevan apartment with the cold: at this moment its zero degrees Celsius in the apartment. Sometimes it changes to minus 1 or plus 1.
"It is chilly here, but it is good I am nor very hungry. Besides, I put on many clothes to stay warm. But here I cannot have a shower. There they were taking me to a bathhouse every 10 days."
"There" is Antonina's reference to Siberia and her memories of exile.
Siberia hasn't left her alone even after returning from exile. In one case it comes in the form of cold and hunger as it is today. And in another case in the shape of an inquisitor, as it was in the 1970s, when her husband Gurgen Mahari's novel "Burning Gardens" was burned under their window. In other ways it comes as the death of her daughter or her son's madness.
Siberia became a symbol of trouble which accompanies her till today. And it is never far away.
Siberia started to crawl into Antonina's life in 1945, when Soviet authorities replaced the German army and began purging Lithuania of its native children.
Chekists arrested 22-year-old student of Department of Law Antonina Povilaytity on Vilnius's Street, for her involvement in forming a patriotic group to defend independent Lithuania.
"While being arrested my only feeling was pride. I was proud that I was also a hero. Why wouldn't they arrest me when all the others were being arrested? This is what youth means."
There were 45 women in GPU (the former title of KGB) building's basement taken to interrogation every day and beaten. Men that "pleaded guilty" and sentenced to death were waiting for implementation of the penalty in the lower basement.
"They were beating so terribly during interrogations that it was impossible to stand it. One girl went crazy. A Polish countess arrested for being a noble couldn't stand beatings and died. My face was black of thrashing, but I was very quiet and I wasn't afraid of their beating and cursing."
In 1940 when the Soviet Union first occupied Lithuania Antonina watched as people with their families were put into wagons and sent to exile. Now, it was her turn together with thousands of her compatriots.
"When they were taking us streets were deserted. There was an impression that they took everybody. They threw us into wagons, as we were some commodities, closed doors and the train started."
She was sentenced to five years in prison and was first taken with other prisoners to Autonomous Region Komy, and then further to Omsk in Siberia. They were placed in the barracks and taken to work, which was 10 kilometers away on foot and in the evenings taken back again on foot every day. They were fed "balanda" (liquid with few pieces of cabbage drifting in it) and were let to have some sleep to go to work the next day.
"The snow was starting to melt in May. It was terribly cold there. I was cleaning hollows of the trees from snow with a wooden spade for men to saw them. Now I cannot stand snow.
"Many exhausted prisoners unable to cope with the work were falling down and were shot by guards right there."
These 60 years later, she remembers a Lithuanian teacher that was walking on his way back and suddenly fell down, got a bullet to his forehead and never stood up.
"I was looking to the mirror and admiring myself - bright blue eyes and long black hair, which was rare among Lithuanians. And I couldn't imagine I would die there."
The wife of a Minister of the Republic of Lithuanian couldn't tolerate the torture and confinement and hanged herself.
"She had traveled all over the world. She told us what to do to remain an interesting woman at a diplomatic meeting two hours long, and that one must always be in a good form. She couldn't imagine eating without a serviette. She was used to the high society life. Siberia wasn't for her and she didn't cope with it. And I always had a hope to return to Lithuania again, and then to escape abroad and free myself from Bolshevik's authority forever. Hope was empowering me."
Antonina tried to escape but was captured and sent to another camp where she lost consciousness for the only time in her life.
"There was a cruel face of the nurse in front when I opened my eyes, and I regretted that I was back to this world. There was a saying in Siberia: 'Lucky is the one who wasn't born'."
Five years of imprisonment were passing and Antonina was counting days left to return to her homeland. But the Chekists had determined a completely different destiny for her. After imprisonment she was sent to Derzhinsk, where in the yard of an administrative building a GPU officer declared: "Here will be your life and grave." She was sentenced to life in exile.
"Even that time I still had a hope that one day I would be released. I felt there is nothing eternal in this world."
In 1952 Antonina was sent from Derzhinsk to a neighboring collective farm (kolkhoz) to bring in the harvest with her exiled friend. This obligated work was very depressing for women. Stableman tried to cheer them up and said: "Don't be so sad, there is a poet here, who looks after pigs."
The pig tender was Gurgen Mahari, and one year later Antonina married him.
Gurgen Mahari was among Armenian writers who were arrested in 1937. Charents, Bakunts, Totovents and Zabel Yesayan were killed (some shot and some beaten to death). Mahari was sentenced to 10 years' confinement, returned in 1947 and one year later exiled again.
He was in hospital with a stomach ulcer and tuberculosis and a nurse was expecting him to die in a few days. But Antonina brought him back from the edge of death.
"If a person there stays alone and there is nobody to stretch a hand to him he will die. Our Lithuanians were bringing milk to him, and even eau-de-Cologne. Other patients envied Gurgen. He was our person, and troubled so much as we were. This wasn't love as people understand it now, this was more than love. We were battle mates, whose love was based on the concern of saving each other."
Mahari wrote in a verse devoted to Antonina:
Why are you late spring-girl?
Why are you late my last anguish?
The most real hope for freedom woke up after Stalin's death (1953) and the couple was released from exile one and a half years later. This news had a curing meaning for Mahari: "This means I will live," Mahari said.
"We were congratulating each other. But we were keeping sad faces. It is so good there is a death without mercy to any dictator," Antonina says.
They returned to Yerevan in 1954 with their 4-month-old daughter Nazik Ruta. Two months later Ruta died.
"My poor Siberian beauty. Her death was my and Gurgen's big tragedy."
Thirteen years later Antonina visited Lithuania, but couldn't find any of her relatives. She knew her brother had escaped to America during the war, but his whereabouts was unknown. There was no one whom she knew to get information about her relatives. Soviet and German troops had destroyed Lithuania so much that many relatives lost each other forever.
"I loved my parents very much. I begged God to not let them die in my presence. I was getting mad if they were away for a few hours. And God concealed their death from me."
In 1966 Antonina was exiled again to Siberia, this time because of Mahari's novel "Burning Gardens", the story of Van, the writer's native town and its resettlement of 1915.
The novel became a target of Armenian intelligentsia and those daring to consider themselves as patriots. For them, Mahari's supposition that Armenian revolutionaries' antagonizing the Turkish government might have been a reason for the Genocide was impermissible.
They also considered it immoral propaganda that the main character Ohannes Agha had a sexual affair with his dead brother's wife.
Antonina remembers reaction to her husband's novel.
"They were throwing stones and garbage to our balcony. The mailbox was full of anonymous letters: 'Damned Turk'; 'Anyway we will kill you.' They were throwing books to the fire. Gurgen was waking up in the middle of night and shouting 'I cannot stand it'."
Mahari wanted to throw himself from the window. He left this world terribly offended, saying on his death bed: "I will go to have a rest finally."
Mahari died in 1969 (at age 66), and their 15 year old son, Gurgen, got a mental disease one year later.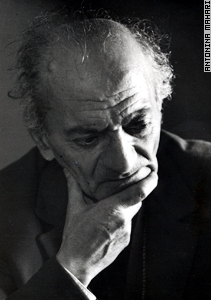 "He said when he saw his father dead: 'Now I understand what is death. Man doesn't hear anything, doesn't feel anything, doesn't understand anything.' Then slowly he started to degrade. Somebody put a spell on our family for sure."
Mahari's destiny bound Antonina to Armenia, unfamiliar for her, but with ties knotted by her life of sacrifice for the Armenian writer.
After exile Mahari kept repeating to his wife that he would die if she did not come with him to Armenia. As he was dying, he asked her to stay in Armenia and tell about her sufferings.
After Mahari's death Antonina was oppressed for taking a dare and staying in Armenia while being a foreign woman and for her attempts to perpetuate the memory of the writer.
"They spat on the front door nameplate saying Gurgen Mahari. They were knocking at the door and shouting if I am making a museum for 'that Turk's dog'. They were telling me to get out of their country, which was not my place.
"One tried to hit me, but he didn't fortunately. If Gurgen died surrounded with his relatives at the top of his fame I wouldn't stay in Armenia. I became a live witness of his sufferings. Now I turned this home into a museum, which is being show by TV from time to time. And I get happy because in those moments Gurgen comes back to life."
Gurgen Mahari's furniture, personal items and old wooden case with exile clothes are preserved as it was in the apartment. Faded walls of the sitting room are covered with Mahari's pictures. Antonina's dream is to publish a book of memories "My Odyssey" (the short version of the book was published in Beirut 10 years ago) - her means of implementing the last will of her husband.
She dreams to return to Lithuania, where former political prisoners enjoy extraordinary attention, have privileges and high pensions.
"We cost as much as gold in Lithuania. They care about us and publish our memories. Nobody needs me here, nobody is interested in my book, probably former Chekists still have some influence and don't want the truth about those years to be published."
But how to return to her homeland? To obtain a visa she needs to go to Moscow. But where can she get money and what would she do with her ill son? It is easier to go to America, then to Lithuania.
There is still another reason Antonina is staying in Armenia: for Mahari's 100th anniversary to be celebrated next autumn.
"I am happy that all my life I was with the defeated. Winners will survive without me."
Defeated Lithuania, defeated political prisoners, defeated Mahari. And today when Armenia got its independence and former political prisoners are winners here, she is again with the defeated poor. She and her son are among 51 percent of the population living below the poverty level and among the 16 percent who are the poorest of the poor.
Antonina's pension is 4,500 drams (about $8) a month. Her son's pension for being invalid is 3,000 drams (about $5), plus they get another 4,000 allotted for poverty - a total of about $20. The "poorest of the poor" spend about $1 a day. She and her son live on about 33 cents per day each, eating only oats in an apartment she doesn't even think about heating.
Exiled for her politics, exiled for love. Exiled now by indifference and slow solutions to sudden social change.
"Authorities think we are those to expire soon and don't care about us. Armenians are probably cruel, as far as only murder and robbery rules in this country."