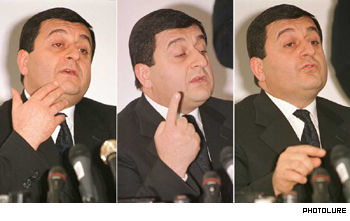 The Military Prosecutor is calling for an investigation by the Ministry of Defense.
The murders of three soldiers in Vanadzor last week may be linked to bribery and payment for privilege among conscripts. The widely practiced (but officially denied) means of survival in the Armenian Army is one of many conditions that make conscription a horror for thousands of young Armenian men.
On August 6 brothers Levon (age 21) and Hamlet Baghdasaryan (24) and fellow soldier Arman Davtyan were gunned down in a civilian neighborhood of the northern city where the three lived lives that hardly matched the common definition of conscription. All three were residents of Yerevan, and university graduates.
According to neighbors in the area, the soldiers lived in a house known as a residence for "soldiers" whose families can afford to pay for their sons to be exempt from all semblance of military service except the paperwork. They wore civilian clothes, enjoyed the use of mobile phones, shopped, and took their meals in the city.
Around 5:30 a.m., the three were shot to death from more than 20 machine gun rounds while the victims patrolled (unarmed) a military warehouse.
An investigation has ruled out robbery, as evidence emerged that led to the arrests of two other soldiers, Arman Hovsepyan and Emil Chifchyan.
According to the investigation of the Military Prosecutor's Office, the murders may have been linked to a deal in which Chifchyan paid Davtyan (who carried the rank of junior sergeant) $50 to organize a leave for Chifchyan.
The leave never materialized. Now it is alleged that Chifchyan took an AKS-M submachine gun with him when he went to the warehouse to get an explanation from Davtyan. No official information has been released that would suggest why the Baghdasaryan brothers were also killed. Hovsepyan is charged with having taken the gun from an armory and giving it to Chifchyan.
It is a common practice in the Armenian Army that soldiers, especially of lower rank or status, bribe officers or better-connected comrades for special treatment, including leaves.
Of course the system is not part of official Army protocol, so it is unknown exactly who profits. It is believed, however, that Davtyan was paid to be Chifchyan's mediator, though typically soldiers pay bribes directly to officers for such privileges as leaves.
The Military Prosecutor also blames officers in connection with Hovsepyan's alleged role in the crime.
"It's obvious that officers of the unit and commanding staff have a portion of guilt in that incident," said Military Prosecutor Gagik Jhangiryan. "That day Arman Hovsepyan was on duty in his battalion and not only couldn't leave his post, but he had no right to open an armory building and take a gun."
Chifchyan, who was taken to service in May, is charged with premeditated murder with aggravated circumstance. Hovsepyan is charged with accessory to murder. No officers have been charged in connection with the murders.
If Hovsepyan's alleged role is in fact true, his family believes his participation could also be retaliation for harsh treatment at the hands of privileged soldiers.
According to Hovsepyan's brother, Armen: "During his whole service in the army Arman was taking money to his military unit. He took approximately 700 grams of gold jewelry and sold it for 100,000 drams (about $200) to a woman working in a kiosk near the unit.
"He didn't tell us in details but he said that he was forced to do that as if he didn't (soldiers or officers) told him they would kill him. Last time before this incident when Arman came home he was beaten and his whole face was swollen. He took $100 (back to the post). He had been pushed during one year and nine months in the unit," say Arman's brothers.
Hovsepyan has only three months left on his two-year conscription.
"My son was cultivating land with me in the village," says Arman Hovsepyan's father, Varazdat, who is a shepard. "I gave a soldier to my homeland. Why are they turning him into a criminal?"
The warehouse where the murder took place is located in the center of Vanadzor on Teryan 4 Street next to residential buildings. Neighbors say it is used to store clothes which were once produced in a Vanadzor textile mill. It is about 15 kilometers from the military post.
The official explanation for why the warehouse is military property is that until two years ago it was used for producing uniforms for the army.
Head of the Vanadzor branch of the Helsinki Citizen's Assembly, Artur Sakunts, says that this incident is unique as it took place in the center of the city.
"Up to now all military crimes have been committed in the military units and were connected with officers or the front line. In this case it was committed in the center of the city. We can say that those three conscripts were on 'alternative' military service," says Sakunts.
"Old clothes are kept in that warehouse. If it is of no military importance then why is it regarded as a military post?"
Many people in Vanadzor have an answer to Sakunts' question. They know the building as a place where "alternative" service is assigned to any conscript who can afford to pay a commander $2,000 to $3,000 for the privilege to "serve" there.
"Conscripts passing their military service here have privileged status. It means that privileged conditions were created for some citizens or conscripts and it is natural that such an abnormal situation would have such a result," concludes Sakunts.
"We have been living here for 20 years and there have always been conscripts here but before everything were stricter," said one neighbor who was afraid to give her name. "Conscripts who haven't got money don't come here."
One resident said she knew one of the victims, whom she called Sevuk. She said she'd offered to do his laundry, but he refused.
The Baghdasaryan brothers came from a family known to be well off due to its business affiliations that include distribution of petrol.
That business tie has led to speculation in Vanadzor that the murders had nothing to do with the military, but that in fact it was the brothers who were actually targets of murder - a "revenge" killing related to mafia-controlled ownership of Armenia's petrol industry.
"Always children of rich people served in that post," the neighbor said. "People driving different foreign cars visit them on Sundays or Saturdays. On the day of the incident I saw a woman getting out of a light colored BMW loudly crying and shouting. I realized that they had been parents of those two brothers. That car was often coming here.
"As soon as the mother of the brothers got out the car she attacked the Military Prosecutor. She was saying: 'Give my children back'."
The Military Prosecutor's Office made a plea to the Ministry of Defense to determine if there is cause for changes in conditions in the Army "so that the public doesn't lose confidence in its army".