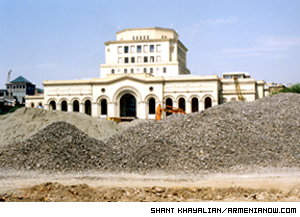 Reconstruction has turned Republic Square into rubble.
The hot air of August is made thicker by a city being reconstructed. Passersby on any street in the center of Yerevan move as if playing some game: One step, then another, then a leap across a ditch or a hole or a stack of blocks, to land covered in dust.

From the Circus to the Cascade, from Mother Armenia to Vardan Mamikonyan -- all in between and beyond, Yerevan is broken to bits. Weary pedestrians are promised that their paths will be put back together by autumn. But the process makes this a summer of discontent for anyone trying to get anywhere in the center.
It started last summer when the Lincy Fund's $85 million repair project got underway. And this summer, the paving and patching and cementing includes re-doing much of that work that didn't survive the harsh winter.
Not even the city's favorite cooling off spot has been spared, as one fine day this spring, the hammers began to fall on Republic Square.
Once the busiest place in the city, the square has been stricken with paralysis and the best anyone can do is pray for a speedy recovery.
"Since construction of the square started we have been in a terrible situation," says minibus driver Ashot. "Every day passengers are cursing us as the roads are closed and construction works don't allow us to drive them directly to their destinations. And as a result our vehicles are getting damaged from numerous by-passes and passengers exhaust our patience as a result of being taken to other places."
From sunflower seed sellers to businessmen, the makeover of the square is not a pretty thing for some:
"Everybody says on TV that it is great our square is being reconstructed but nobody thinks how much damage people working there experience," says an elderly woman whose income is selling packs of sunflower seeds at 25 drams (about 5 cents) per pack. "Before, we could earn enough for satisfying everyday needs as different events were organized on the square and young people were just walking around there in the evenings. Now everything has finished and I have to wander around the city with these seeds in my hands."
Hotel Armenia is probably the hardest hit business. In summers past, the hotel patio has been a gathering place for tourists and locals taking lunch meetings. This summer, it is a gathering place for noisy generators, jackhammers and the necessary madness of rushing a major construction site to completion.
"Maybe next year everything will be very beautiful. I have nothing against that, however, who will think about the great losses that I've suffered this year," says the general manager of Hotel Armenia, Anil Sampat. "As a result of construction we lost both café business and hotel business. People can't move. Who's going to be responsible for all of that?
"We have the possibility of waiting till next year (to recover lost business), but what can these small cafés and restaurants do? All of this will probably have destructive effects on them."
Hotel Armenia is not happy to see its outside cafe turned into a parking lot for heavy equipment.
At a press conference last Friday Minister of Trade and Economic Development Karen Tchshmarityan said that the Lincy Fund's overall reconstruction of Yerevan would contribute to tourism growth in Armenia.
Sampat (brought here by Marriott five years go) says that in any other country, such major work is carefully planned in advance to re-route transportation and accommodate businesses effected by the work. And he added that in most places, the work would have been done in stages, rather than destroying an entire section of the city at once.
"Nobody informed us in advance that such huge construction works were planned," Sampat says. "Nobody invited us to participate in any discussions, taking into account the fact that we are also a part of this territory.
"If we had been informed in advance, of course our business wouldn't have changed but in that case, at least we would have psychologically been prepared. Anyway, it would be right to conduct the works by stages. In this case authorities do everything like it was during Soviet times when everything belonged to the government and there was no private sector to suffer losses in situations like this."
The hotel manager says Hotel Armenia has offered guests special deals to account for the inconvenience caused by the construction. However:
"People, who prefer Hotel Armenia don't expect big discounts. They want comfort both in the hotel and outside the hotel. And that's why there were people who simply refused to stay in our hotel because of the construction project on the square."
Sampat says that investors will avoid investing money when they see a situation like this and tourists will choose different places when they see that almost half of the city is ruined. Museums and cultural centers are also under construction.
"Anyway, before launching such works, the government should have thought about those private organizations which pay taxes," Sampat says. "We are properly paying all taxes, but for what? This year we've got no business. Officials must at last understand that private organizations won't be able to pay taxes if they lose their business. Besides, in a situation like this organizations will have to reduce their personnel and people will lose their jobs."
Salbe Ohanyan manages Day to Day gift shop on Amiryan Street and has seen her souvenir business suffer this summer.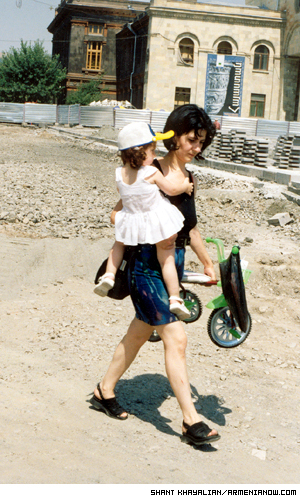 In the summer of broken sidewalks, everybody needs a little help getting from here to there.
"Many things have changed as a result of construction works and, of course, they have changed for the worse," she says. "Before we always knew that especially summer months are the most profitable for this business as there were many tourists walking on the square visiting such shops. These days the picture has completely changed and in case everything continues the way it is now we will probably find ourselves in an unenviable position. We keep our shop open till late night to make our business a little bit more active, however, it doesn't save our situation at all."
And at the square's usually-popular restaurant Pizza di Roma, it has been a hungry summer.
Armen, a cashier at the restaurant says that usually this time of year, customers sometimes have to wait to get a table. But this year:
"The construction project has changed everything. People even don't believe that the square will be so beautiful that it will cover all the losses."
Arsen Alekyan, manager of Pizza di Roma says that compared to other summers, nobody is coming to his restaurant.
"We can't do anything," Alekyan says. "Maybe we will seize the occasion to do some construction works ourselves, as we have no other choice. Let everything be finished and let's wait to see what will be in the end."