Weightlifting (European Championships)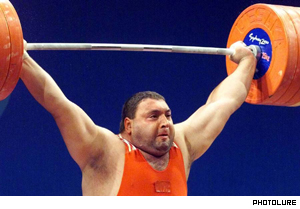 Two-time champion Danielyan finished second.
Three Armenian athletes competed in the European Weightlifting Championships in Loutraki, Greece from April 12 to 20. They were among 139 lifters from 32 countries.
The best performance among the Armenians was from two-time European Champion Ashot Danielyan. Competing in the 105-plus division, Danielyan finished second to Russia's Yevgeny Chigichev.
Both lifters managed 447.5 kilograms in the snatch and clean and jerk, but because Danielyan outweighs Chigichev, the Russian got the title.
Gevorg Alexanyan performing in 77 weight category took 5th place out of 11 weightlifters with a total of 340 kg. First place of that category was taken by Bulgarian weightlifter Georgi Markov with 367 kg.
Tigran Kamalyan was representing Armenia in 85 weight category. He managed to take only 14th place out 18 with the total result 340 kg, 42.5 kg less than Bulgarian winner Zlatan Vanev.
Team Armenia took 14th place in the Championships, with 178 points.