The State Department of the United States and the Smithsonian Institute again made April Jazz Appreciation Month in Armenia as well as throughout the world.
For the second year the United States Embassy has been presenting a series of concerts and events commemorating the American art form. This year's celebration began April 9 and will continue through Sunday.
During the opening concert at AUA, an Armenian audience delighted to the music of Armen Martirosyan's jazz band and veteran jazz pianist Levon Malkhasyan's "Malkhas" group.
A featured attraction of any jazz event in Armenia, though, is the performance of pianist Vahagn Hairapetyan.
"Jazz is not just music but also a way of life, life itself, a way of thinking and emotions," says Hairapetyan, who travels extensively playing traditional American jazz with Armenian passion.
The third day of Jazz Month gave non-musical artists a chance to participate.
At the Painters Union Gallery, students put their emotions onto canvas, under the influence and inspiration of jazz music.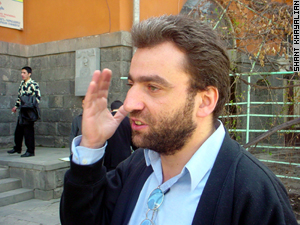 The smell of oil paint mixed with the jazz sounds and the effect was seen in the free brush strokes that concocted stories of the distant and mythical New Orleans. Painters portrayed African Americans making protests through music, linking their feelings to the roots of jazz.
The process of painting while listening to jazz became a habit and natural need for a student of the Yerevan State Academy of Fine Arts Ani Aivazyan.
"The music is inside my mind and I can create whatever I want by means of colors," says Aivazyan.
The young painters had two hours for expressing their feelings. Then paintings were given to a jury. Three best works were chosen and authors of those works were awarded with oil paints, pastels, brushes and other painting supplies.
Jazz Month has also featured movies, quiz competitions on the history of jazz and performances by Mike del Ferro Trio from USA.
Tomorrow the trio will perform in Gyumri, followed by a closing-day concert Sunday with their Armenian colleagues at Armenia Hotel.
"This festival is a beam of light that was lit in this gray reality and made people forget about wars and everyday worries," says jazzman Hairapetyan.