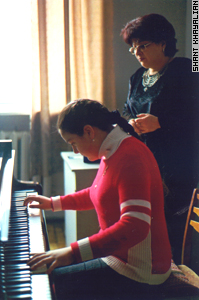 Twelve year old Lilit Babayan of Yerevan has won second place in the Eighth International Piano Contest earlier this month in Greece.
More than 50 musicians of various ages from 15 countries, including Russia, Bulgaria, Romania, Georgia, Ukraine and Slovakia participated in the competition.
"When we went to that competition we couldn't even imagine what kind of masterful people we could have met there," says Lilit's teacher Hasmik Hakobyan. "Anyway we concentrated on our abilities and thought only of how to return home with honor. In this case we returned with victory, which is extremely pleasant as we were representing Armenia."
Hakobyan says that thanks to the talented young piano player all those at the competition got an opportunity to be introduced to the level of Armenian piano school and technique.
"By the first performances Lilit attracted specialists' attention," says Hakobyan. "Many representatives of the jury, (consisting of 10 members of different nationalities), underlined that performances of the Armenian piano player were incomparable."
Lilit is a student in the fifth form at the Spendiaryan Music School in Yerevan and has been practicing at least two hours a day in preparation for the competition.
"That contest was the first in my life and I'm happy that I had a success," she says. "In the beginning when the names of the winners were announced and my name was also announced my mother started to cry and it seemed to me that I did something wrong and she is dissatisfied with me. Then I realized that they were tears of happiness. I didn't know what to do because of my success."
In recent weeks, the teacher and pupil have fought the late-autumn cold in their practice room, preparing compositions of Mendelssohn, Bach and others.
Hakobyan says she wasn't sure how they would get to Greece, as all invited participants must pay their own expenses. But Lilit's relatives living in Moscow provided the traveling money.
The teacher says that Lilit is an example of talent surviving unfavorable conditions for nurturing it. The music school's classrooms are not heated and each teacher makes only 1200 drams (about $2) a month for each student.
"If there was a bit more attention we would reach numerous successes," says Hakobyan, "There are many talented children who have no opportunity for participating in the international competitions, however, I am sure that they could be back with great achievements. However, it seems that everything is subjected to indifference."
Whatever indifference Lilit might have felt was lessened though by the reception she received upon her return to classes with her certificate and special medal.
"I was received very well in my schools. In musical school everybody warmly congratulated me and in comprehensive school they organized a celebration," she says.
The school was decorated with balloons and a banner of congratulations. The director of the school presented the young pianist with a certificate of appreciation. And two Armenian women from the US sent greeting cards and gifts of $10 and $20.