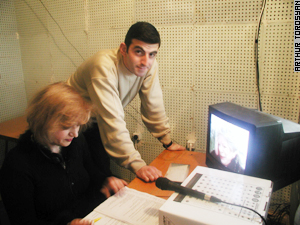 Like other societies, Armenians enjoy a good scandal and are moved and made angry by the troubles of others. And it is that characteristic that makes a rich audience for TV serials or "soap operas" as they are known in the West.
For some time, shortly after independence weekly programs such as "Dallas" and "Santa Barbara" enthralled local viewers. But, in 1998, when the Brazilian serial "Slave Izaura" started broadcast here, Armenians got their chance to have daily doses of vicarious scandal.
When "Slave Izaura" was on air one could hardly met people on the streets, as they hurried to enjoy another part of the serial. During that period many Izauras were born in Armenia and other countries of the former Soviet Union, and other Brazilian names became very common.
In the course of time the noise made by serials diminished, but many people till now live their lives along with the "Juan Carloses" and "Maria Rosas".
But there has always been a hindrance for Armenian "soap" fans. Actors in Brazil don't speak Armenian. And, according to law, programs broadcast on Armenian channels must be in the native language.
And so the Juan Carloses and Maria Rosas need Armenian voices.
They get them from actors such as Hamlet Hambardzumyan and Ruzanna Gasparyan from the Hakob Paronyan comedy theater.
Almost all 16 TV companies existing in Armenia broadcast different Brazilian or Mexican serials, but only two of them have dubbing (in Armenian instead of Russian): one is "Madalena's Quiet Passions" broadcast by Public TV and "Yago- Dark Passions" broadcast by Shant TV Company.
Neither, however is done in a professional studio and...
"I am sure that 'Madalena's Quiet Passions' broadcast by Public Television is more interesting than 'Family Ties' broadcast by First Russian Channel," says 64-year old serial fan Rita Mirakyan. "However, I cannot force myself to watch the serial with Armenian voiceover because voices sound terrible, the quality is very poor. It would be better to leave Russian dubbing."
Today almost all the Russian TV companies have their own companies producing around 10 serials a year with participation of Russian movie stars such as Alexander Abdulov, Maria Mironova, Sergey Bondarchuk, and others.
But the Armenian TV companies don't have enough money to produce their own serials, that's why they broadcast Brazilian ones, which they record from several private Russian channels.
So the voices that start out in Portuguese or Spanish become Russian, then Armenian. It is little wonder if the quality suffers.
Public television and "Shant" private television have established dubbing studios which have sound-proofing walls and adequate equipment, but they don't have work experience or the desire to maintain high quality. The companies figure there is no need to spend money on producing unique shows if the demand is for something like what is offered by the Brazilian programs, even if the language is poor.
"We don't have possibility to dub all the movies, besides people will not watch any Hollywood film with Armenian voiceover. But it is relatively easy to dub serials," says Artyom Ghazaryan, program director of the Shant TV company.
According to the head of Movie Department on the Public television Ruzanna Avetisyan 90 percent of movies and cartoons being broadcasted by the Public Television are already in Armenian. Next year they will provide 100 percent Armenian language air as it is required by government regulations.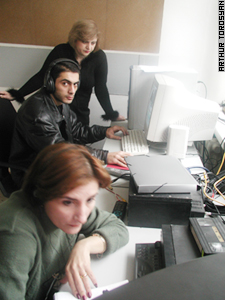 "This is a matter of time, we have just started dubbing, and our studio is new. I think, several years later we will produce more qualitative voiceovers," Ghazaryan says.
But professional dubbing isn't new in Armenia. Beginning in 1969 Studio Yerevan was doing voiceovers for Russian programming that, some said, made the programs more enjoyable than when heard in their original language. Well-known actors did voiceovers for movies and cartoons.
"We have a scoring studio with half-century experience, but some people prefer to create new scoring studios because of subjective, personal reasons and provide audience with low quality and wrongly translated Armenian dubbing," says that studio's director Tigran Khzmalyan.
Doing voiceovers, says veteran actress Zhanna Amirjanyan "is more difficult when compared to acting on the stage."
The actress says it is shameful to let the experience of the professional studio go to waste and have poor quality broadcasts as the result.
Still, the characters taking shape in Brazil and given Armenian voices, continue to be popular daily parts of Armenian life, proving perhaps that voyeurism or vicarious living has its own language.