A museum opened last month in the village of Tsitsernavank, part of the corridor that links Armenia and Karabakh and a territory of severe fighting during the 1990-94 war. The territory, previously known as Lachin, is now called Kashatagh.
Only recently is the area being resettled, and part of the resettlement has included a search for pieces of Armenian history.
So far, the museum houses a candlestick dated to the 5th century, a small statue of a woman with a lamb in her hands, some household items and grave tiles used during funeral ceremonies as coffins.
But one significant find has not been fully displayed, as a chief administrator says it is too ghastly.
Only a piece of marble tombstone with "Tsatur" inscribed on it and some nails hint of the complete discovery -- a human skull with nails driven into it.
The skull and a few fragments of skeleton were found during excavation near a monastery wall and is thought by at least one expert to be the remains of a Christian martyr from the 6th century. (The nails remain at the museum, while the skull was taken to Yerevan for further analysis.)
"The rock was dug from below and the cemetery opened itself," says Menush, a specialist who is reconstructing Tsitsernavank and who has reconstructed several churches and was conferred with the Order of Ananya Shirakatsi. "The skull was with nails in it and also arms. A woman took the skull in her hands and was stroking it."
Scientists suppose that the remains were buried under the monastery's walls because they belong to someone considered to be a saint.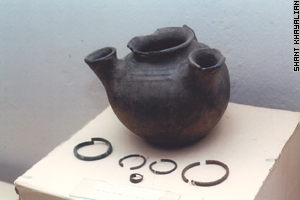 Head of Kashatagh's administration Alexan Hakobyan, who is also a Candidate of Historic Sciences, published the research concerning the remains in "Handes Amsoria" scientific journal. He writes that it is possible to guess from the tombstone's inscription that the martyr's name was Astvatsatur (the entire tombstone was not found).
According to Armenian history there was only one martyr with such a name, a Persian by nationality, who was crucified in 553 in Dvin. After an earthquake in Dvin the citizens of that town moved to Syunik, where Tsitsernavank is located. Hakobyan guesses that the martyr's remains were taken there.
"It is an exceptional hypothesis. If there are any other opinions then it would be interesting," Hakobyan says, "we didn't exhibit the skull as we think that it is very horrific."
Tsitsernavank dates to the 4th or 5th century (construction made in accordance with the project of extended rectangle and it is one of the main types of the early Christian temples). The church and its bakery were reconstructed in 2001-2002 with the help of Armenian benefactors from Diaspora. A 19th century Armenian cemetery is next to the monastery.
The museum is in the building of the bakery and is a branch of Kashatagh's museum of regional history.
In Berdzor (formerly called Lachin), a museum has opened in 1996 and contains a bronze club dated 3rd millennium B.C. and stone totems. The items were discovered six years ago during excavations carried out in the territory of Kaitskarsar.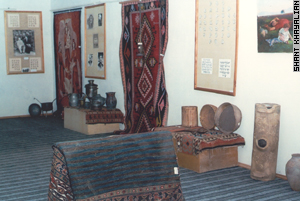 The most part of the 300 exhibits presented in the museum were collected by the director of the museum Livera Hovhannisyan, who, before moving to Lachin, had been working for 18 years in Yerevan Museum of History and was chief scientific expert.
"In April, during one month, I had traveled in 47 villages and collected all these exhibits to be in time for the museum's opening," says Hovhannisyan. "Those days many villages hadn't been settled yet. Accompanied by two men I was going to every village by truck and we were searching and finding in every house things we had been looking for. In one village we were fired upon. Residents of that village hadn't seen other people for a long period of time and when they saw us they were afraid very much and thought we were Azeris."
Armenian household items dated from the 3rd to 2nd millennium B.C. are on display in the museum, including an oil glim, dated 3rd millennium and found on the bank of Arax River. A clay pot dated from the 1st millennium was found in Aghavnu gyugh (formerly Zabugh) village as were a lampshade dated around the 17th or 18th century and a copper basin with an inscription that says "Margara - son of Hairapet".