From a huge territory deep under the ground come strong sounds of invigorating music and a crowd freely dances while others line up at the bar, trying to catch the attention of the bartenders who in their turn are doing their best to get all the orders...
A couple of months ago for an average Yerevan citizen it would sound like a scene from movies they've seen or a place somewhere abroad. The truth is different today.
Besides the opportunity to enjoy ballet and other classical dance at the Opera House Yerevan's youngsters have now a chance to do some other kind of dancing in the same area.
Over the past two months, two disco clubs have been opened in the area of the Opera House, Astral and Atlantic.
While Atlantic maintains an atmosphere of more familiar Yerevan discos, Astral is something new. Its attitude matches the free feeling that patrons became used to at Yerevan's other most popular disco, Monte Cristo. But here, in the city's famous entertainment square, Astral is an unexpected twist of pop culture in the shadow of the classical Opera House.
Astral is a successful transformation into a disco club of what used to be public toilets throughout Soviet times and the first years of independence. Even if passersby don't visit the disco, they can appreciate the transformation, if only for the fact that the area smells better.
According to the founder of Astral Armen Stepanyan, it took about two and a half years to complete the construction of what now is a 750 square meters disco club deep under the ground, which is only one third of a future entertainment complex including a jazz club and an open air restaurant.
Opening a disco club meeting western standards has been Stepanyan's long-standing wish.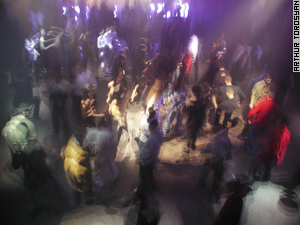 "A disco is a very good place for our youngsters to learn how to dance. It frees one from complexes," says Stepanyan.
He thinks the younger generation is self-conscious and he hopes that Astral is his small contribution to improve their need for freedom of expression.
"The atmosphere is lacking freedom. People act very restrained," says Tigran Shakarov, 18, who lives in Volgograd (Russia) and claims that though there are no such discos where he lives, people there are much more free spirited.
Still, starting from the time of its opening Astral became very popular among young adults who prefer it to many other disco clubs in Yerevan claiming that the difference is not only in the size.
"This is the best disco I've ever been to and I'd love to come here every night. The music, the DJs, the people are different," says Martha Badikyan, age 20, whose opinion coincides with most patrons.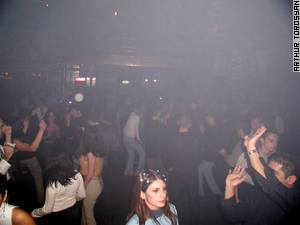 Visiting a disco club every night may not be affordable for many students whose average scholarship is 5,000 drams (about $8.50) and the entrance fee to Astral is 1,500 drams ($2.50). However, it is an average price for Yerevan discos.
A disco club of such a size and scope is something new for Yerevantsis. Probably the only other place where one can see so many Armenians (the club fits about 850 people) gathered together is at some demonstration. The difference is that those 850 all together are not complaining about the system and other things, but they simply are dancing and having fun.
Stepanyan is also happy to mention that in spite of the so-called Armenian mentality and hot-temperedness, they managed to create an atmosphere where both locals and foreigners can relax and enjoy themselves.
"Whatever their style is, whatever color their hair is, whatever sex they are, they can be calm, because they know that their rights of citizens are protected here. It's a very important thing and, thank God, we managed to achieve that," Stepanyan says.